Lately I've been getting into Wikimedia Commons, uploading artwork and organizing the autism stuff. While organizing, I ran across the "Charlie" problem.
I believe the Charlie problem illustrates one of the differences in non-autistic versus autistic thinking… as well as the dangers of using non-autistic assumptions to dismiss autistic abilities.
The Charlie problem
Around 1995, Simon Baron-Cohen et al showed a picture to autistic and non-autistic children. While I can't find the original study, I believe that the kids were asked 2 questions:
Which candy is Charlie looking at?
Which candy does Charlie want?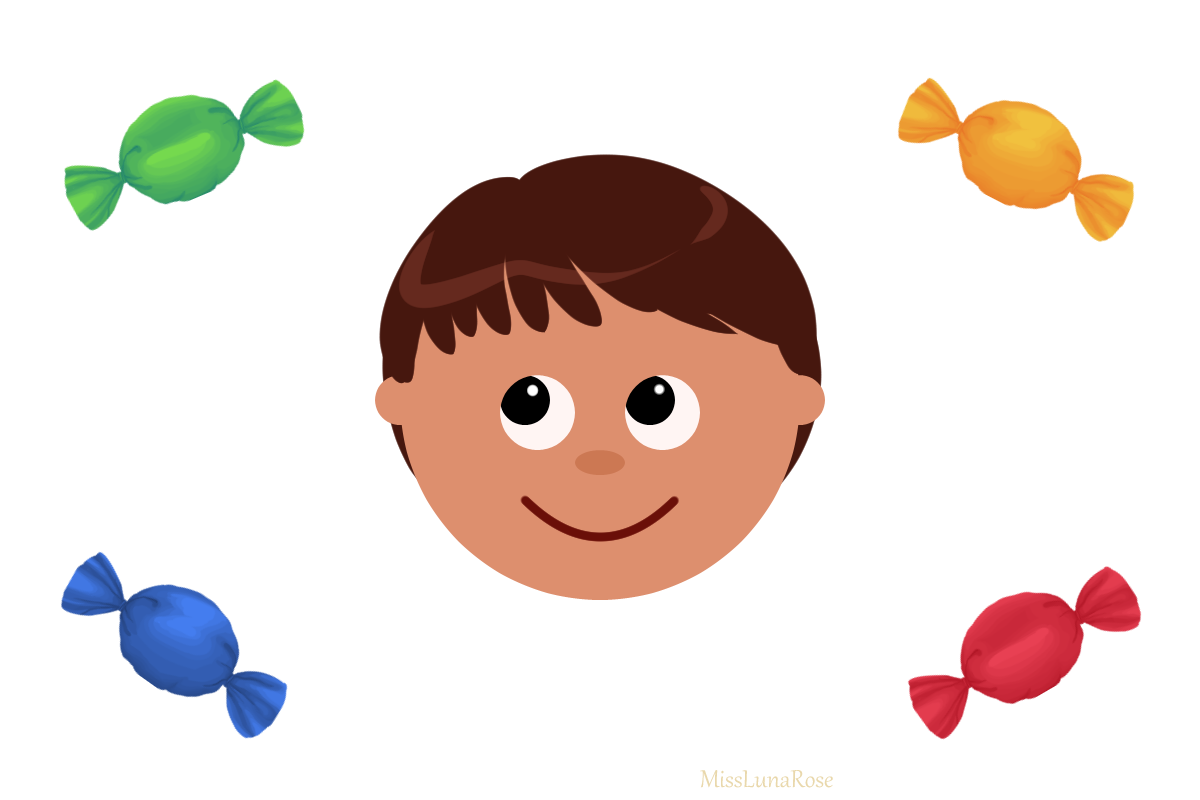 Unless you're color-blind or literally blind, you probably thought that Charlie was looking at the green candy.
In the study, the children also could tell which candy Charlie was looking at. (Big surprise.)
But here's where things get interesting: the non-autistic kids said that Charlie wanted that candy, while the autistic kids weren't sure.
(Please feel free to share whether your answer was "green" or "I don't know" in the comments.)
According to researchers, this is because autistic kids lack the basic understanding that people look at the things they want.
But can we be sure that's what's going on here?
My autistic reasoning
When I saw that the picture was supposed to suggest what Charlie wanted, I was startled. "Why on earth would you assume that?" I asked myself. "Non-autistics are so weird, what the heck!"
According to my 23-year-old autistic brain, this picture doesn't mean that Charlie wants the green candy. All it means is that he's looking at it.
As I looked at the picture, I thought…
Maybe he's still weighing his options.
Perhaps he's trying to remember if he's eaten the green type of candy before, and whether he liked it.
Maybe he's staring off into space daydreaming.
Perhaps he plans to grab all 4 candies and run off before the experimenter could stop him.
He could be looking at the green candy because he wants it, but there are multiple other explanations for his eye gaze.
Autistic people tend not to make eye contact, and we don't always look at the things we're thinking about. (I stare off into space when I'm thinking really hard about what someone is saying to me.) To the autistic mind, the direction of the eyes does not always signify the focus of the mind.
If Charlie kept staring at the green candy, that could mean the green candy is important to him. But I can't be sure just by looking at his eyes.
So I don't know what Charlie wants. To me, the only logical way to find out would be to either (1) wait for Charlie to make a decision, or (2) just ask him what he wants.
Thus, I find Baron-Cohen et al's assertion flawed. We can know what the autistic kids said, but we can't be certain if it's related to a theory of mind deficit, or if it's just because the autistic kids are more reluctant to ascribe motivation based on limited evidence.
Implications
While individual brains vary, I think that this little story tells us a few interesting lessons:
Non-autistics tend to assume that everyone thinks in the same way. Thus, especially if you're a non-autistic person with an autistic loved one, it's important to remind yourself that you shouldn't jump to conclusions about why they're behaving a certain way. You could easily be incorrect.
Autistics can keep in mind that with non-autistics, gaze usually equals intent. (For example, a non-autistic person might look at a door because they want to leave.)
If the majority of brains work similarly to yours, then you can imagine yourself in their shoes and make assumptions that are likely correct. But if the majority of brains are different from yours, then you quickly learn that it's hard to assume what others are thinking.
Thus, autistics quickly learn that others are mysterious, whereas non-autistics learn that others are predictable.
In fact, I think that recognizing that others likely think differently from oneself would be adaptive in autistic people.
(Of course, I'm not going to deny biological differences between autistic and non-autistic brains. Those could be at play too. I just don't understand them well enough to comment.)
Anyway, I think non-autistics may take for granted the fact that the average brain is quite similar to theirs. So if you're a non-autistic person interacting with an autistic person, it's important to step out of that perspective and acknowledge that the reasons behind their behavior might be different from what you assume.
Or, in short: When in doubt, just ask the other person what they're thinking.
And now I run an experiment because I can.
I wanted to run a small unprofessional replica of the study using my family as test subjects. (Don't worry, I have a license.)
Setup
The experiment took place in my room. Due to the small sample size, the fact that I only tested my relatives, and the Mamma Mia music playing in the background, I will not be submitting my study for peer review.
My hypotheses:
All family members will recognize that he's looking at the green candy, because duh.
Mom, Dad, and Stella will say he wants the green one.
Neil, who shows signs of being autistic or Broad Autism Phenotype, is the wild card.
I also chose to ask each family member to explain their answer to the second question.
My results
Unsurprisingly, every member of the all-adult study population was able to tell that Charlie was looking at the green candy.
Here's a table of my results for question 2 (what Charlie wants).
| | | | |
| --- | --- | --- | --- |
| Person | Neurodivergent? | Paused before answering | Said green |
| Stella | Down syndrome | Yes | Yes |
| Dad | Neurotypical | No | Yes |
| Mom | Likely alexithymia* | Yes | Yes |
| Cousin Neil | Autistic traits, no dx | Yes | Yes |
*Alexithymia is a subclinical personality trait that makes it hard to identify emotions. Many autistics are alexithymic. I'm pretty sure that my autism came from Mom's side of the family.
Here were the explanations they gave for their answer.
Stella said: "Because he was looking at the green."
Dad said: "Because he's smiling as he's looking at it."
Mom said: ""'Cause he's looking at it. That suggests maybe he's drawn to it."
Neil said "Because if he wasn't interested in something, why would he be looking at it?"
It seems that, for non-autistics, looking at something suggests that you are interested in it. Non-autistics rely on this idea when interpreting the gaze of others.
My mom later said that, during her pause, she was considering the (debunked) theory that people look in certain directions based on what they're thinking about.
I asked my cousin why he paused. He said that he paused because the test seemed so straightforward that he was wondering if it was a trick question. This confusion ("why is it so easy?") is probably a downside to testing adults instead of children.
Discussion
Obviously we can't draw any sweeping conclusions from this informal 4-person study of adults from the same family.
But I did find the pauses interesting.
Stella's pause could be explained by slow thinking. While she has theory of mind, she doesn't always grasp it intuitively. (During playtime, her dolls tend to have a hive mind, and they lack distinct personalities.)
Interpreting my mom's and cousin's pauses poses a challenge. Were they just wondering why I asked them such a simple question? Or were their brains slower to associate eye gaze with desire? Neil shows signs of autism and my mom shows signs of alexithymia (a trait most autistic people have). Could their hesitation be linked to neurodivergence, or is this just what happens when you ask a ridiculously simple question to an intelligent adult?
I don't know. As the only professionally-diagnosed autistic of the family, I'm loathe to assume other's thoughts based on limited behavioral data.
Anyway, I believe that Baron-Cohen's experiment was limited for several reasons:
It jumped to conclusions about why autistic kids didn't say the "correct" answer. (We don't know whether it was lack of understanding or reluctance to assume.)
The kids may have felt pressured to pick an answer as opposed to saying "there's insufficient evidence." They may not have been eloquent enough to explain their hesitance if it existed.
The unnatural study environment could be confusing or uninteresting. Without incentive or a real-life person in the example, kids could get "wrong" answers despite having the knowledge in real life.
I don't deny that some autistic kids have delays in developing theory of mind, or that some autistic kids might not grasp certain concepts. But I do believe that Mr. Baron-Cohen has a habit of making broad claims without sufficient evidence, and I think that he could have jumped to conclusions here.
Autistic thinking is different. That doesn't mean it's always deficient.
What about you?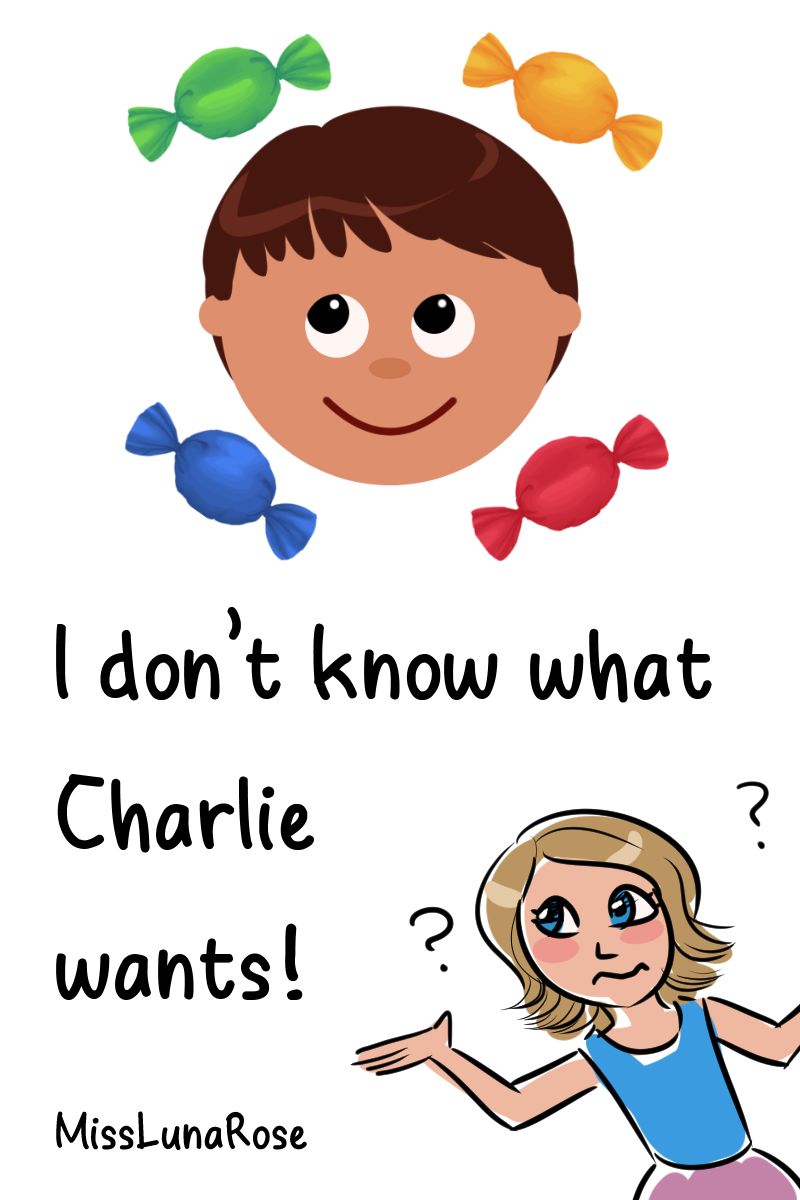 What did you think when you first saw the picture?
If you're interested, comment and say:
How you interpreted Charlie's intent
Whether you're autistic
Whether you're alexithymic or neurodivergent
Your own ideas about neurodiversity and theory of mind
This obviously doesn't carry the same scientific weight as a peer-reviewed study, but it's fun to share ideas and theories. (And don't be afraid to speak up even if you didn't follow the autistic/non-autistic pattern.)
Exploring differences in autistic vs. non-autistic thinking is always fascinating to me, and I love hearing different perspectives and learning about how different people think in different ways.
So, what's on your mind? I'll never know unless you tell me.