I'm autistic. I'm pretty sure I know which side of the family it comes from, and I think there are some Broad Autism Phenotype traits in family members. My sister has Down syndrome. This is not a very neurotypical family.
And this may surprise you to hear: we're doing okay.
Today I'm going to talk about some of the reasons why my family is managing this decently, in the hopes that you might get a few insights into how you could make it a little easier for your own family.
Not everything that works for the Rose family might work for yours, but my hope is that you'll get a little inspiration that just might make your life easier.
Also I'm including drawings of mine just because I like pictures.
Disclaimer: mitigating factors
Several things have made it easier for my family:
We have 2 parents, both retired, one who is a former teacher and thus has plenty of experience for homeschooling
We're financially secure
We're a majority-introvert family with disabled daughters, so we didn't leave the house a ton in the first place
Stella and I have separate bedrooms
These factors, which involve quite a bit of luck, are part of the reason that we're doing okay. If your family doesn't have these aspects, you're going to struggle more and that's not anyone's fault.
How we act
Our habits and behavior help create a positive environment.
We respect boundaries.
When we're in the same house all day, we recognize that sometimes people don't want to socialize. This is normal and okay and it doesn't mean anything personal.
Here's an example:
A few days ago, I could see that my sister wasn't happy. She was looking out the window and her expression seemed sad.

"Is something wrong?" I said.

"No," she said, not sounding very convincing.

"Would you like to talk about it?" I asked.

"No," she said.

I paused. "Do you want to be alone?"

She waited several seconds. (She's a people-pleaser, so sometimes she's hesitant to say something she thinks someone won't like.) "Yes."

"Thank you for telling me," I said. "See you later." And I went upstairs.
My sister was obviously upset. I'm a big believer in talking about your feelings in order to work through them. But she said she didn't want to talk about it, so I let it go.
She told me about it later that day: she was missing one of her friends. I'm glad I didn't push her. She came to me on her own when she was ready.
It's important, now more than ever, to respect a "no." Sometimes people need time and space. And to keep healthy relationships, we should give it to them when they ask.
We find ways to have fun together.
Of course, nobody wants to be alone all day every day. So we put down the devices and spend time together.
We baked a cake from a box to celebrate my sister's birthday. We've done arts and crafts, watched Netflix together, and chatted. We've played games and taken a lot of walks one-on-one or in groups of 3.
We enjoy the outdoors.
We need to avoid other people right now, especially since my sister having Down syndrome means that she's at increased (though probably not terrible) risk.
But that doesn't mean we have to stay indoors all the time. We:
Spend time in the yard
Take walks
Open windows for fresh air
Luckily for us, we live in the southwestern US, so the weather is pleasant right now. (That will change in summer.)
But a little fresh air whenever we can get it feels good.
We talk about why we do what we do.
Stella has received a lot of bad news lately:
She can't spend time with her friends in person.
Her favorite events got canceled.
We're not going out. Not now, not later.
She had to get a flu shot.
She's handled it with a lot of grace, all things considered. That girl is tough.
And she knows exactly why it's happening. We explained that the coronavirus is pretty bad and that staying at home protects our family and our community.
And she handled the flu shot remarkably well. My sister is downright terrified of needles, to the point that she will pass out multiple times in terror, and that several other things happen that I will not share because I won't violate her privacy. But suffice it to say it's really, really bad.
My parents decided not to tell her about the appointment until the morning of the day. They wanted to avoid her worrying and losing sleep about the appointment. Somewhere around 10 minutes before they had to get in the car, my dad handed her a dose of anxiety medication and told her what was going to happen.
And the ordeal happened.
Afterwards, I told her why she got the flu shot. I explained how "white cells" (omitting the word "blood") learn to fight off flu germs and make her safer. I discussed how flu shots make the flu milder and quicker to beat. I explained that our mom read that the simultaneous coronavirus + flu combination can be a really bad one, so protection against the flu is important right now. I said that it's a smart thing to do and I talked over all the science and the basics in language she could understand. I explained why she wasn't told about it earlier in order not to worry her.
And today she, the girl who is petrified of needles, told me that she's glad she got the shot.
She is glad.
And that's not just because she's an amazing person (though that's certainly part of the reason). She understood why she needed to get a shot, even though it was awful for her. She recognized that the reasons made sense and she felt proud of herself for handling it.
(It didn't hurt that she got to have apple juice afterwards or that she got cake for dessert that night.)
So take the time to explain things to kids and people with intellectual disabilities. Say why these changes are happening and why it's important to stay inside and take extra health precautions. Say how it works and say that it's protecting the family and the community.
My sister is happy that she got her flu shot, everyone. I never thought I'd hear her say that. Yet here we are. She understands it and her strength amazes me.
How we talk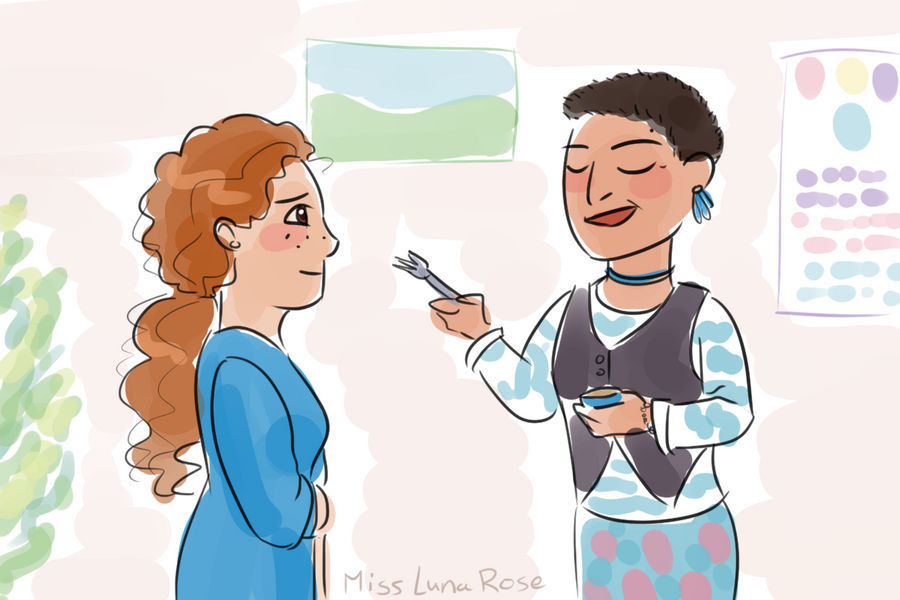 Respectful and clear communication makes a big difference, especially in times of stress.
We are politely direct.
During times of additional stress, people are going to have greater needs. That's how life works. And it means that we need clear communication.
Here are a few examples of things I've said to my family:
"I'd like to go take some quiet time in my room now. I'll see you later."
"We haven't talked much in a while and I miss you. When you have time, please think of me. Maybe we could go for a walk soon."
"Mom, please don't give me scary updates about the coronavirus. I'm trying to manage my anxiety right now and I'm better off not knowing."
"The internet is down, I can't see the professor, and I'm freaking out. Please try to fix it!"
And because I have an awesome family, this means that I can be alone when I want, my dad will try to spend more time with me (hurry up Dad!), my mom has stopped giving me unnecessary scary updates and now only tells me coronavirus news that is good news or important, and my sister (of her own volition) volunteered to stop using Netflix while I'm in class.
Though I think I broke her heart today when I mentioned that watching YouTube is streaming video just like watching Netflix is.
People can't help each other unless we know what the other person needs. So in my family, we work on saying what we need.
And that doesn't mean we're obligated to drop everything and meet each other's needs all the time. Here's a conversation that just happened when I took a break from blogging to go pester my dad:
Me: Hey, Dad, remember how several days ago I asked you to hang out with me and go for a walk when you had time?

Dad: Yeah…

Me: Remember how that didn't happen?

Dad: Stella has therapy [via video chat] in like 5 minutes.

Me: That's okay. It doesn't have to be now or today. Just sometime. I miss hanging out.

Dad: All right. Stella, time to stop your video.
I wasn't 100% direct at first, but Dad is practically a mind-reader so he knew what I wanted. I said I wanted to spend more time with him, he said now was a bad time, and I said I understood. And now I'm writing this blog post and planning on pestering him again tomorrow.
When we say what we want and need, we can better help each other. (Dad and I didn't say everything literally 100% directly this time, but given our closeness and his ability to basically read my mind, we understood completely. He knows I want to hang out sometime. I know that he knows and will make time when possible.)
Be as clear as you need to be. When in doubt, openly say clarifying things like "I miss spending time with you" or "I'm not mad at you, just a little tired and in need of some quiet time alone." Clarity is your friend and savior.
We validate each other's feelings.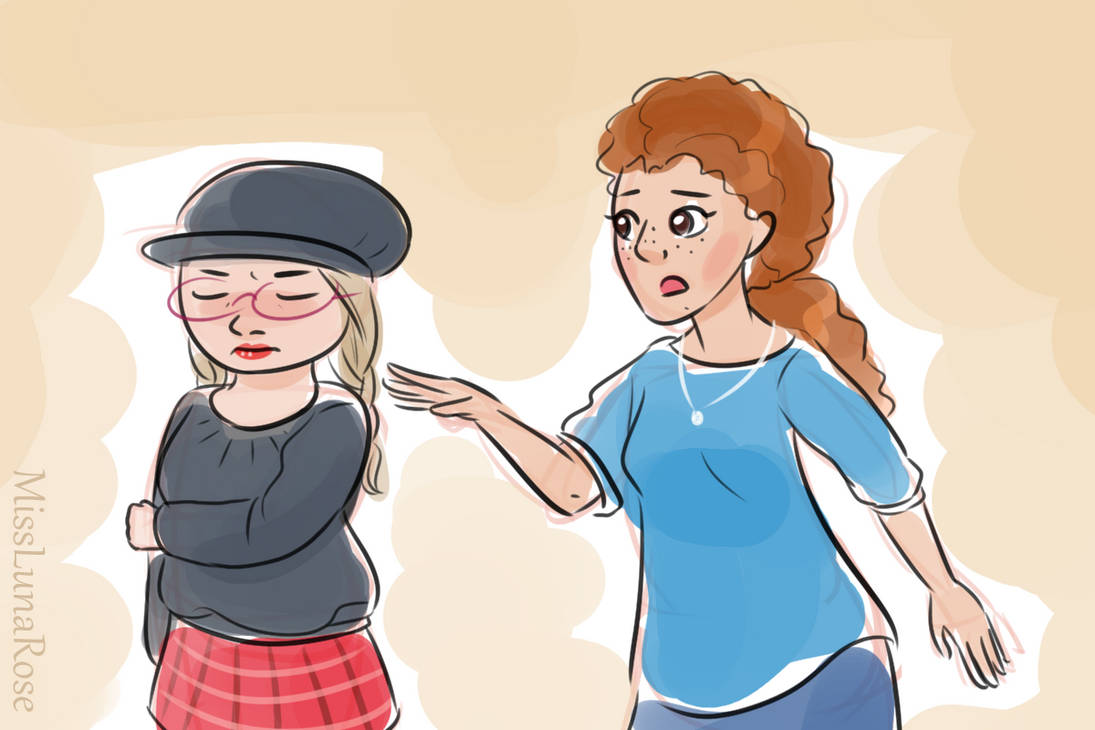 When I have to give bad news to Stella, I tell her "it's okay if you're sad about it" and "it's normal to be disappointed about this."
At one point early on, it just broke her. I told her that someone she really cares about wouldn't be able to visit for quite a while. And she burst into tears.
I didn't say "you're being a crybaby." I didn't say "at least she's still alive when some people are mourning dead loved ones." I didn't say "get over it."
I hugged her and I told her that it was okay to be sad about it, because the person is so special and fun and it's normal to miss that person. I told her why it was necessary and I gave her a tissue and I said it was okay to be sad. And I encouraged her to talk to our parents about setting up texting and calling and video chats.
And I knew that behind the sadness of missing her friend was probably another thousand sadnesses about school and friends and a mystery illness going around that she didn't fully understand. She has feelings for many reasons and I will be there to support her no matter what they are.
We show understanding.
We try to relate to each other and understand where the other person is at. (And we can ask if we're not sure.)
We show patience and compassion to people who are struggling. We ask "How can I help make this easier for you?"
We get everyday consent in little interactions like "Is now a good time to talk?" or "May I follow you around for a while? I'm bored of my computer."
We get that the other person has thoughts and feelings and goals that might be different from our own, so we try to understand and respect those things.

Final thoughts
Our family is a pretty great one. Mom's friends sometimes express jealousy that Mom found an amazing man like Dad. Dad raised Stella and me well. I've researched emotional intelligence and raising socially savvy kids and applied those lessons as I spend time with Stella.
Good communication habits, full of clarity and respect, make this ordeal easier.
We're not perfect at it, of course. Sometimes Dad tries to push his "it's okay" viewpoint on me when I need him to acknowledge that some things aren't okay. Sometimes Mom starts telling scary health stories regardless of whether the other person wants to or is ready to hear them. Sometimes Stella is rude and sometimes I turn clingy or avoidant when my anxiety gets bad. No family is exempt from dysfunction.
But our habits help. They make a difference.
Do you want to make your family life easier? Here are a few things you can do to help yourself and your family:
Explicitly say what you want/need.

"I need alone time."
"I could really use some company right now."

Label your feelings out loud. You can pair this with a want/need statement so that people know how to respond.

"I'm feeling sad and I could use a hug."
"I'm tired and cranky, so this is a bad time to chat. I need to be on my own."
"I'm stressed about my homework. Could I sit next to you while I study?"

Say no gently when you don't want to do something. Be assertive and kind. Try offering a substitute idea if there's something you think both people would like.

"I need to focus on getting ready for class right now. But maybe we could take a walk after supper and you can tell me all about it."

"I'm not up for game night. I think I need to go lie down. But you have fun!"
"I don't want to take a walk because I'm already in pajamas. But we could hang out in the living room and chat if you'd like."
"I don't feel like baking, but I'll watch and keep you company if you want."

Validate people's feelings instead of trying to push your own agenda right away. They need to process it before they can move on.

"I'm sorry to hear about the con. I know you were really looking forward to it."
"It's okay to be sad. This is a big deal."
"Yes, I'm worried too. This isn't easy. What do you think could help you with these worries?"

Listen to what your family members want and need.
With any luck, your family members will start to pick up these habits too.
Above all, take care of yourself and your family. These are challenging times. Give them, and yourself, a break.